The Centre for Jerusalem Studies - al Quds University
cordially invites you to a public lecture by
Prof. David Goldfield

Immigration Nation

on Wednesday, December 2nd @ 4 pm
at Hind Husseini College, Ibn Jubair 6 St., Sheikh Jarrah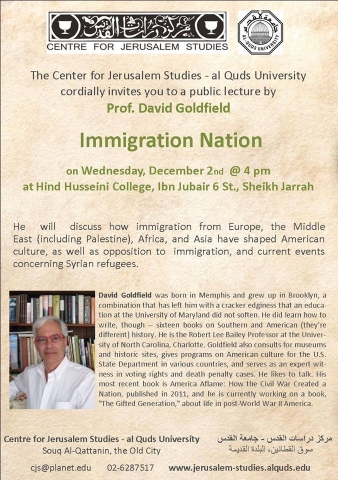 He discussed how immigration from Europe, the Middle East (including Palestine), Africa, and Asia have shaped American culture, as well as opposition to immigration, and current events concerning Syrian refugees.


David Goldfield was born in Memphis and grew up in Brooklyn, a combination that has left him with a cracker edginess that an education at the University of Maryland did not soften. He did learn how to write, though -- sixteen books on Southern and American (they're different) history. He is the Robert Lee Bailey Professor at the University of North Carolina, Charlotte. Goldfield also consults for museums and historic sites, gives programs on American culture for the U.S. State Department in various countries, and serves as an expert witness in voting rights and death penalty cases. He likes to talk. His most recent book is America Aflame: How the Civil War Created a Nation, published in 2011, and he is currently working on a book, "The Gifted Generation," about life in post-World War II America.


Centre for Jerusalem Studies - al Quds University
Souq Al-Qattanin, the Old City
This email address is being protected from spambots. You need JavaScript enabled to view it. 02-6287517
www.jerusalem-studies.alquds.edu