A warm welcome to the readers of our first issue of Ya Quds! Newsletter. Published by the Centre for Jerusalem Studies (CJS) of Al-Quds University, this newsletter is conceived as a forum for academic discussion and exchange of information on Jerusalem by both Palestinians living in Palestine and expatriates, as well as foreigners interested in the city of Jerusalem. Please join us in celebrating the launch of Ya Quds! In this issue, we introduce CJS and its programmes.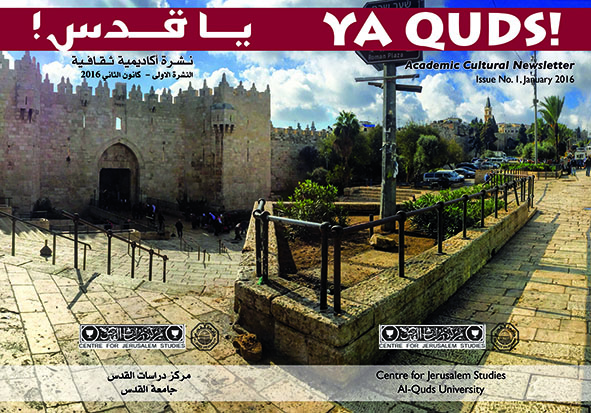 The newsletter also contains short articles and essays in English and Arabic written by academics, researchers, students, and others interested in the city and society of Jerusalem. We do not focus on a specific theme but have rather left it up to individual contributors to decide upon topics of interest to them under the general rubric of Jerusalem. We would like to thank the President of the University, Prof. Dr. Imad Abu Kishek, for his support and introductory words presenting the various institutions of AlQuds University in Jerusalem. We would also like to thank Dr. Safa Nassereldin, Vice President for Jerusalem Affairs for her constant support, as well as the staff of CJS for their assistance in making this issue possible.
Finally, we would like to take this opportunity to thank all of those who have contributed to this first issue of Ya Quds!. Despite the tense situation reigning today in the Old City of Jerusalem, we at CJS are committed to maintaining our presence there as an academic and cultural institution in Suq Al-Qattanin (the Cotton Market) in the Old City of Jerusalem, on the hope that Ya Quds! will become a forum for the many voices of the city. We hereby send out a call for articles for the second issue of Ya Quds!. Articles may be in Arabic or English, should not exceed 1200 words, and should be dedicated to a topic on Jerusalem. The deadline for submission is May 20, 2016. We look forward to your contributions.
Thank you, we are pleased to have you as a reader of Ya Quds! 

The Editors 
Prof. Dr. Shukri Al-Abed 
Director, Centre for Jerusalem Studies 
This email address is being protected from spambots. You need JavaScript enabled to view it.

Dr. Maha Samman 
Assistant Professor, 
Centre for Jerusalem Studies 
This email address is being protected from spambots. You need JavaScript enabled to view it.
To read the English articles, please click on the link: http://www.jerusalem-studies.alquds.edu/images/publications/CJS/CJS_Newsletter_1_2016_ENGLISH.pdf

To read the Arabic articles, please click on the link: http://www.jerusalem-studies.alquds.edu/images/publications/CJS/CJS_Newsletter_1_2016_ARABIC.pdf